Greetings Leaders,
As we first highlighted in our Fall Road Ahead post, the Manufactory will be a brand new building coming to DomiNations. This building will have you crafting Munitions to improve various aspects of your Troops and Defensive Buildings. Today we're offering an early in-depth look at the new building ahead of our Early Test Build!
We look forward to releasing the finished version of Manufactory to all of you very soon, but in the meantime let's take a look at what you can expect when you add this brand-new building to your base!
(
All images represent a feature under development and may be subject to change)
---
Manufactory and You!

​

Leaders will be able to build the Manufactory starting at the Industrial Age! The Manufactory will have you produce Materials, and then you'll either turn the Materials into Components or Munitions.
Materials
This building will automatically start producing the material of your choosing after a set amount of Production time. Each Material has varying times of completion to produce. Not all materials will be available right away, you'll gain access to more Material options as you upgrade this building.
When the Manufactory is first built you'll have access to two Production slots to generate Materials from. In Manufactory's pre-release version, you can acquire two additional slots once this building reaches level 5. Each Production slot can hold up to 15 Materials before the building stops generating them, at which point you'll need to collect them in order to continue production. If a Material's production completes while you are in the Manufactory menus, the Material will automatically be claimed.
The Manufactory can produce Materials like Carbon, Titanium, Plastic, Glass and more! They'll then be used to Manufacture Components like Thermoplastic, Titanium Alloy, or even Electroless Plating!
A more valuable Material called Platinum will be available to produce and is required for some Munition Upgrades. This Material takes longer to produce than all other Materials and can't be refunded when you salvage any unwanted Munitions.
You'll be able to produce ALL Materials, including Platinum, through the Manufactory building. But this isn't the only way that you can acquire Materials! You may even find them in Chests, available from Marco Polo, and even as Rewards on your Episode Passes.
You cannot complete Material Production with Crowns or Speed Ups.
Components
A part of the Manufactory crafting process is turning those Materials into Components! Assembling Components is done through the Manufactory building's menu, like Training Troops at your Barracks, you'll be able to queue up the production of multiple different components at once. For the pre-release version of Manufactory, you start with two Component Assembly slots. You'll then gain two additional slots at level 5.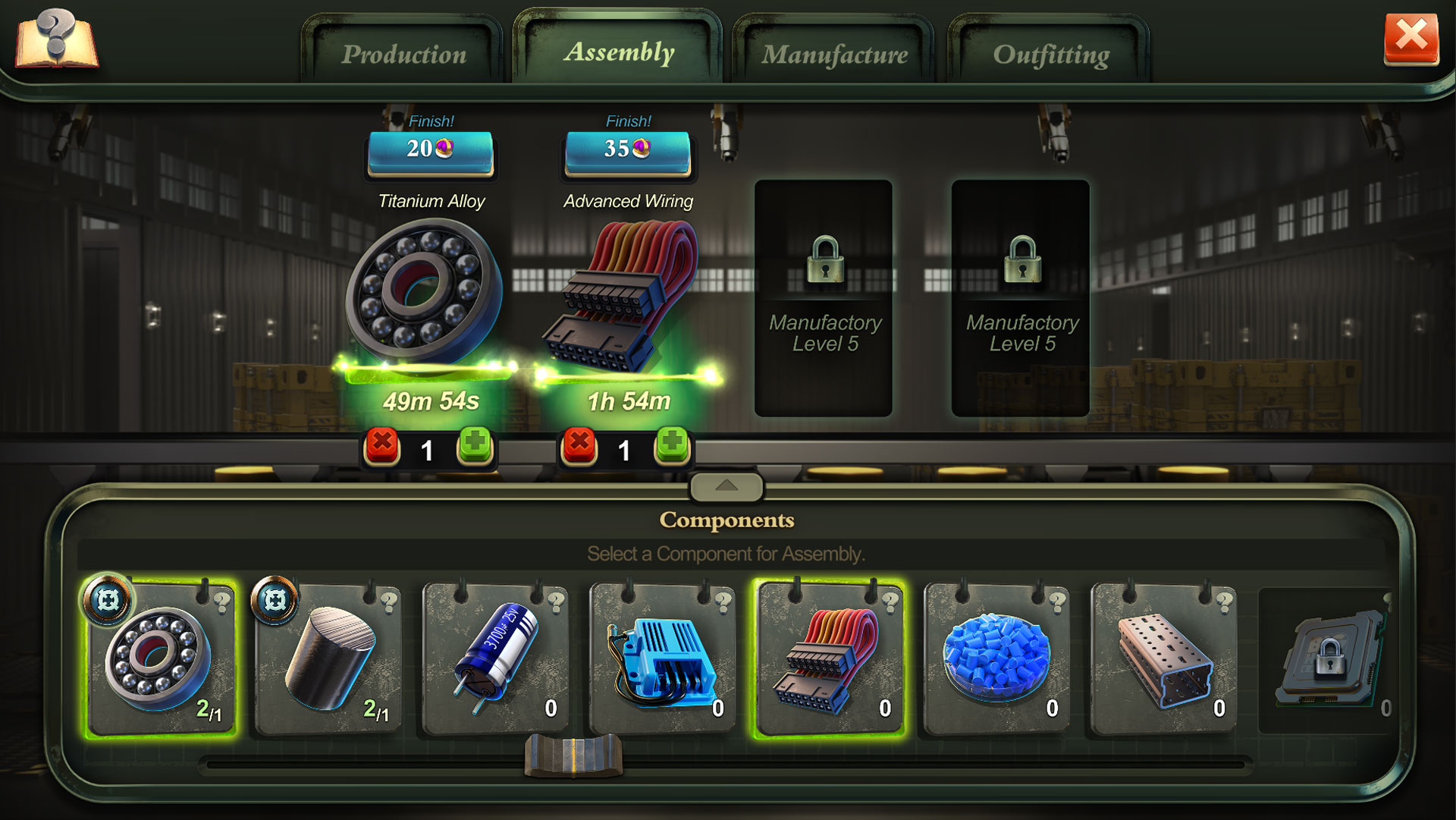 Like Materials, you'll gain access to additional Components as you level up the Manufactory building. You'll also find these Components included in the same places you'll find Materials like Chests, Marco Polo, and as rewards on both the Season and Episode Passes.
When creating Components, you can complete these orders instantly using Crowns. However, you will not be able to use SpeedUps on Component Assembly.
Munitions
Munitions work similarly to Artifacts, except benefits from Munitions will only affect the Troop or Defensive Building they are assigned to. When assigning a Munition to a unit type it will apply the bonuses to all of those units. For example, if you assign your Fighter with a Munition all of your currently trained Fighters and those that come after will receive the benefits of the assigned Munition.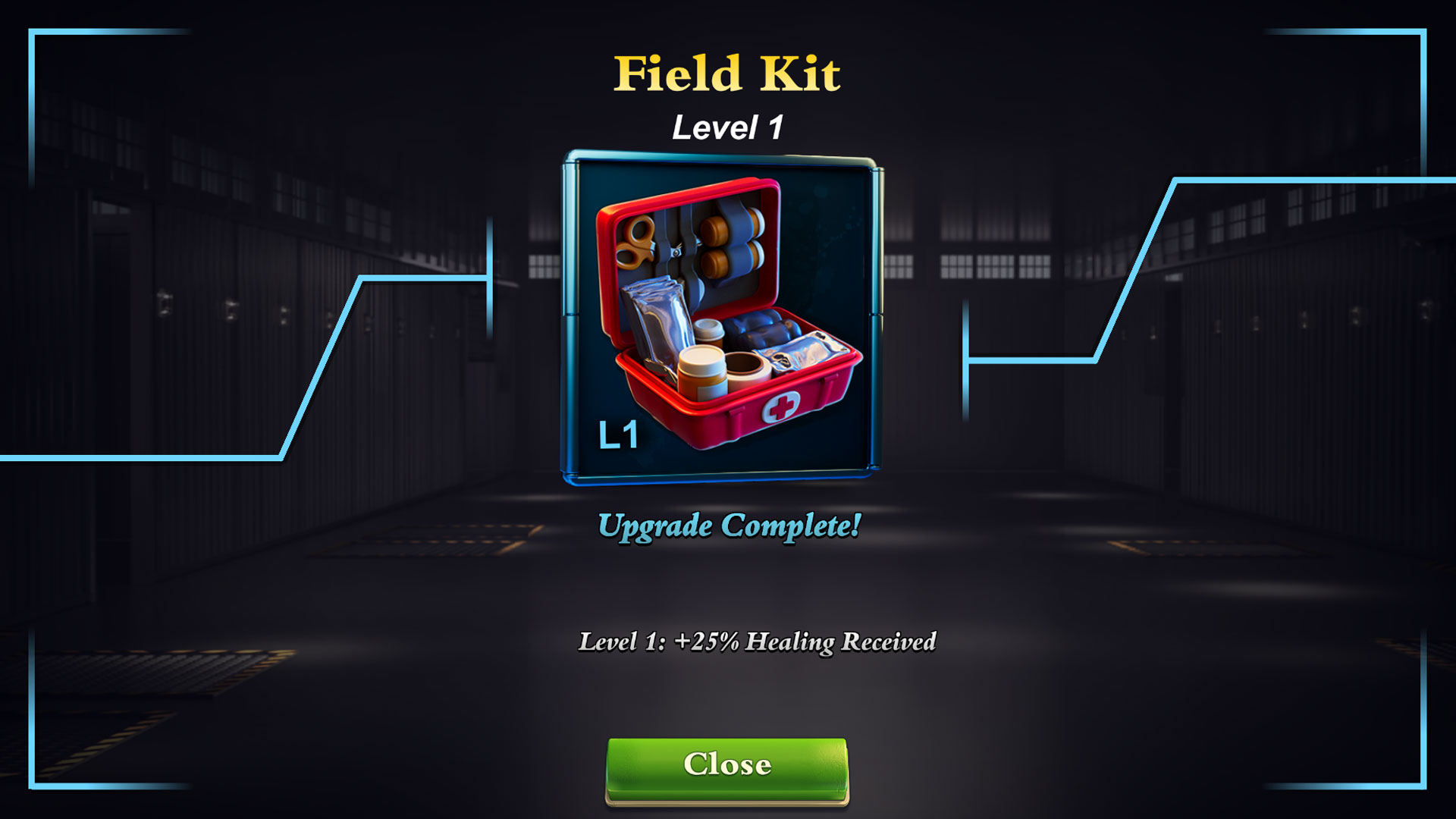 One Munition you might want to check out for example is the Ejection Seat. With this Munition assigned to your Fighters and Bombers, they'll spawn a Paratrooper when destroyed in battle!
To assign a Munition, Troops must be at a designated level, and some Munitions can only be assigned to specific Troops. Assigned Munitions will also impact the Defensive version of that Troop, for example, assigning a Munition to your Heavy Infantry will also benefit the Heavy Infantry spawned from your Garrisons. However, if the Defensive Unit that spawns doesn't meet the requirements of the Munition itself they will not receive the Munition benefits! In other words, an under-leveled Garrison will not receive benefits from Munitions assigned to the Heavy Infantry it spawns if the Heavy Infantry Level doesn't meet the minimum requirement.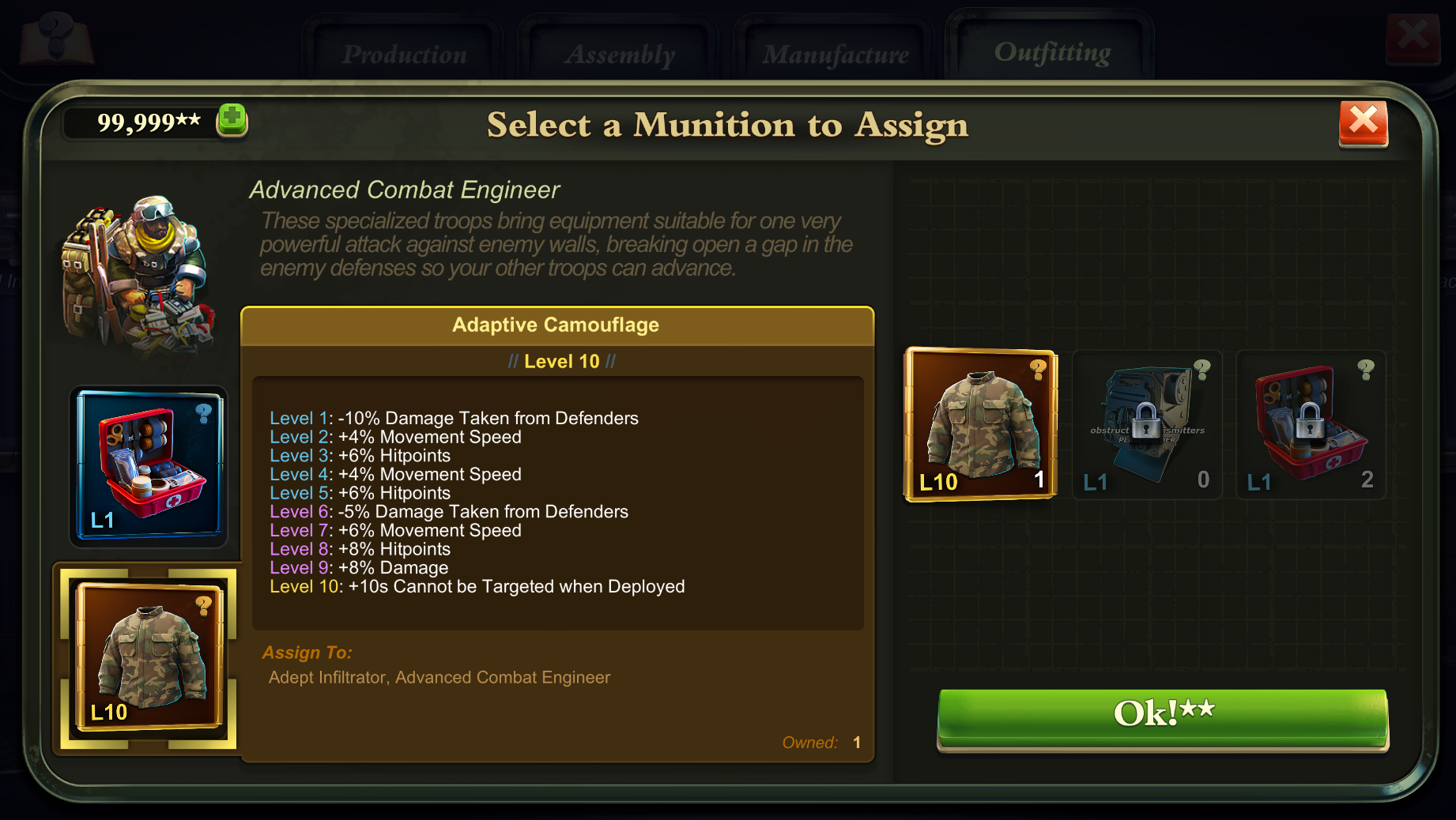 Some Defensive Buildings can be assigned with Munitions, and you will only need to assign it to one eligible building to gain the benefits of the Munition. But, just like your Troops, if the Defensive Building doesn't meet the requirements of the Munition, then it will not receive any benefits. For example, if you have a Munition that requires your Mortar Tower to be at Level 15 and you only have one at that level, only the Level 15 Mortar Tower will receive benefits from the Munition while you upgrade the rest of your Mortar Towers.
Munitions do NOT expire and can be used as many times as you like. You can swap Munitions as often as you like instantly, and the benefits apply to both World War and regular Multiplayer battles.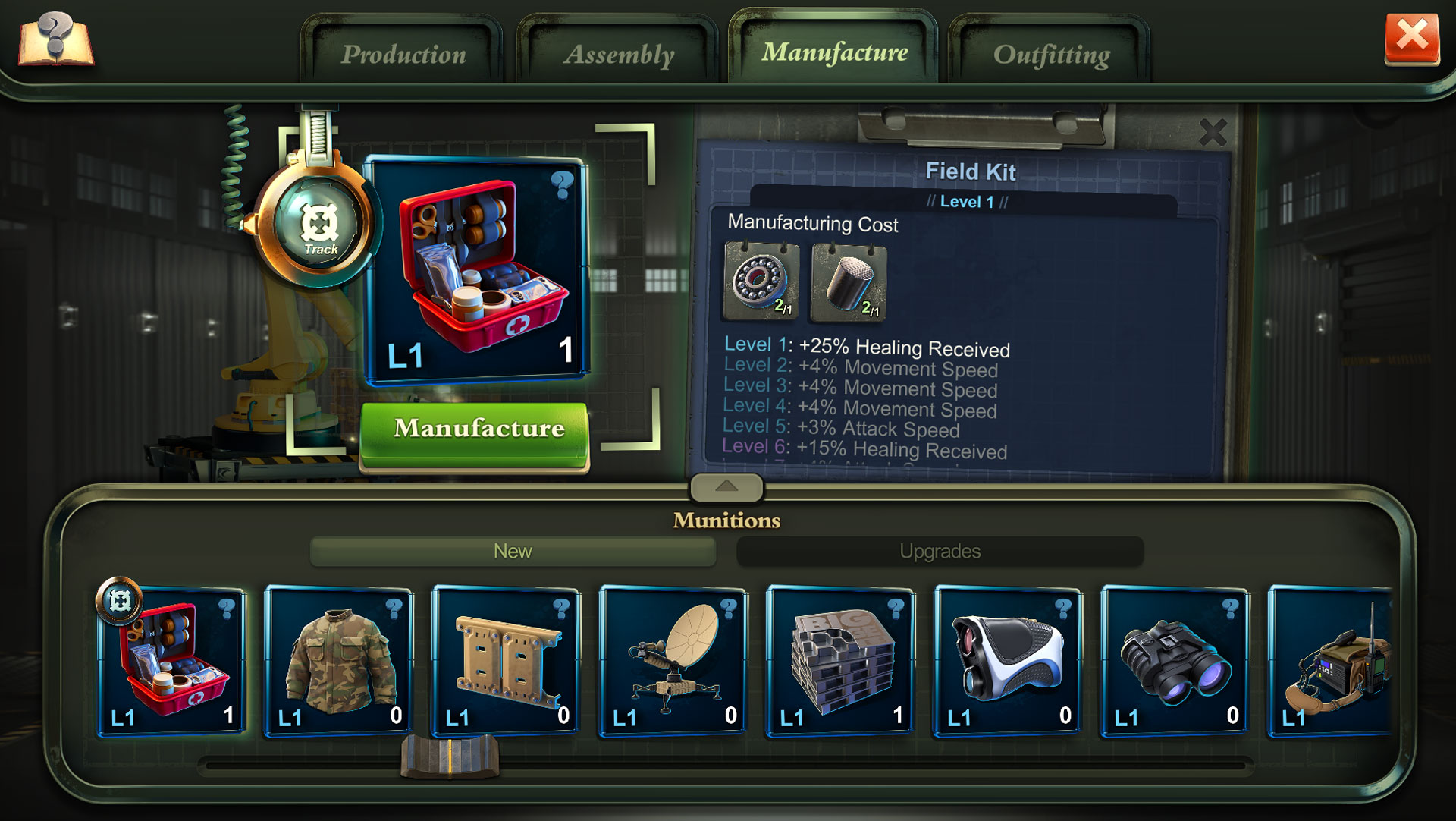 Each Munition has a total of 10 Levels each offering various bonuses. Some levels may add to the bonus of a previous level, or give another benefit entirely. You'll unlock additional Munition Schematics by leveling up the Manufactory Building.
Donated Troops receive the Munitions benefits from the Leader they were donated to, Munitions benefits cannot be transferred through Donations. Troop Tactics also do NOT gain the benefits of Munitions.
Munitions in World War and Friendly Challenges
For World War, your Munitions will be locked in for the duration of the War after the planning day concludes, similarly to your Museum Artifacts and Councilors. But, during the active War you'll be able to change your Munitions however you see fit for regular Multiplayer, and your World War Munition set will remain the same in your World War Battles for the duration of the War.
Friendly Challenges work in a similar fashion. When you create a Friendly Challenge your Munitions settings will retain the same settings you had at the time of creating the Friendly Challenge, that set will remain active for anyone that participates. You'll be able to adjust your Munitions after creating the Friendly Challenge however you like, doing so will not change the set that was locked in for the Friendly Challenge.
Materials, Munition, and Component Storage
Materials, Munitions, and Components do not have a maximum storage capacity. In the case of Materials, your Manufactory will continue to produce them until the production slot has hit its maximum stack size will need to be claimed in order to continue production.
If you no longer require a particular Munition you can Salvage it. Doing so will refund 50% of the total Materials used to create that Munition at its level, except for Platinum, which cannot be returned through Salvaging. This includes Materials that were used to assemble Components to Manufacture and Upgrade the Munition.
Outfitting Units and Buildings
Within the Manufactory building menu, you'll find the Outfitting tab where you'll assign eligible Troops and Buildings with the Munitions you've Manufactured. You'll find these sorted into their respective groups of Barracks, Factory, Airstrip, and Defense. Each of these can have up to two Munitions assigned at one time, but they cannot be duplicates.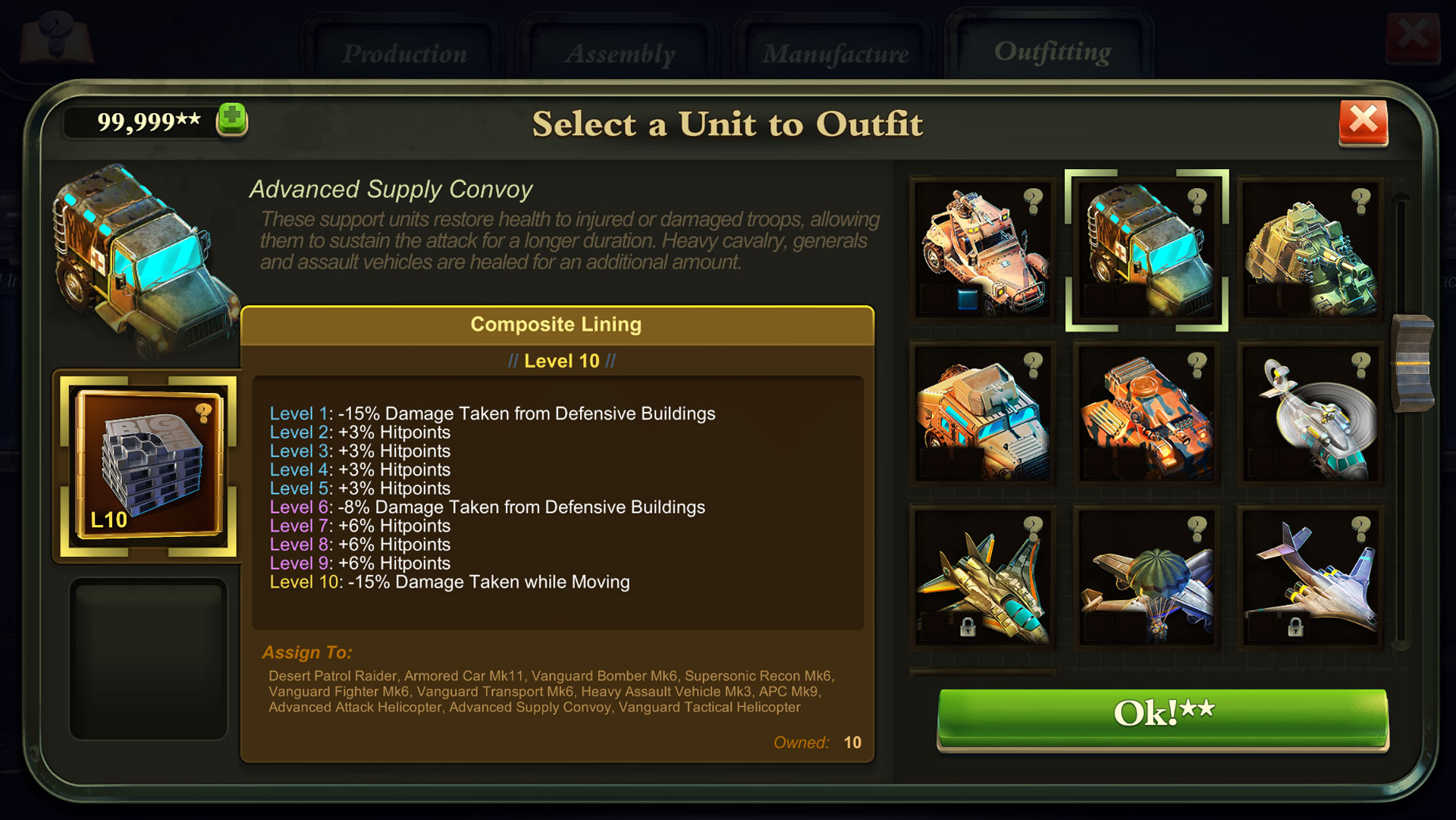 This menu will highlight what Troops and Buildings you can currently assign with Munitions and also show the ones that still need to be unlocked by upgrading them.
---
There is so much to digest here, which is why we knew that the Manufactory certainly deserved an early hands-on experience! Sign ups for the Early Test Build are currently underway and will be closing soon. We're looking forward to seeing how you leverage this brand-new feature in the near future. If you have any thoughts or feedback feel free to leave them in the comments below!
Last edited: