Joined

May 6, 2022
Messages

538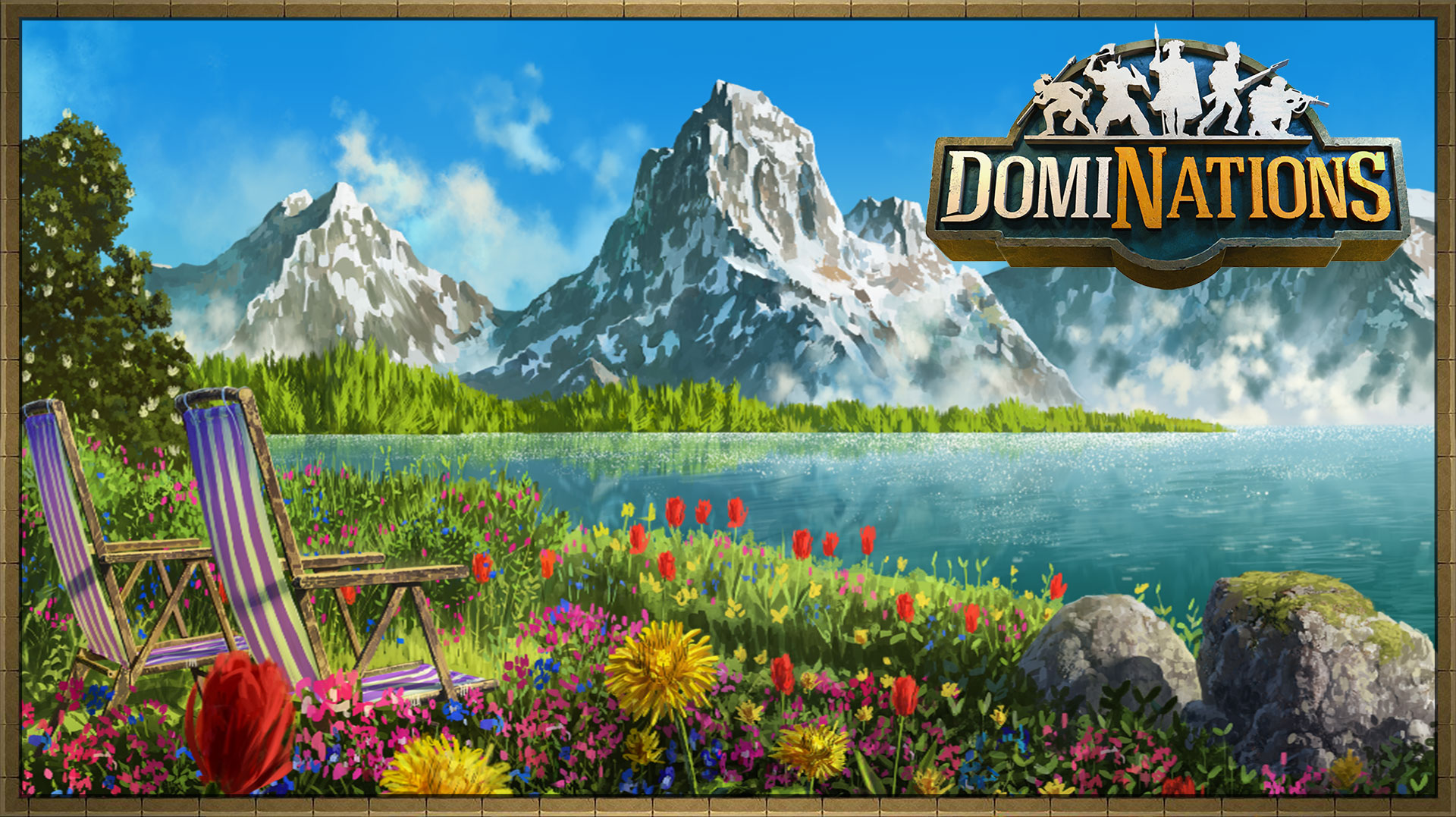 Greetings Leaders,
Today the preview period for Season 2: Tomorrow's Promise begins and the Premium Season Pass is now available! If you missed out on the update in the Week Ahead, here's a recap from the Week Ahead that was shared Sunday:
New Strategies!:
• APC Deployment Speed +125%
• APC Troops Deployed -1
• Battle Duration -15s
• Quick Victory Time +15s
• Castle Defender Spawn Range +13
Offensive Bonuses:
• Joan of Arc Damage +50%
• Sun Tzu Damage +50%
• Bazooka Damage +40%
• Heavy Infantry Damage +35%
• Tactical Helicopter Range +1
• Tactical Helicopter Hitpoints +60%
• Recon Plane Cooldown -20%
• Assault Rally Duration +1s
• Agility Directive Power +50%
• Valor Directive Damage Increase +66%
• Super Heavy Tank Factory Population +5
Defensive Bonuses:
• Garrison Defender Hitpoints +50%
• Tower Damage +40%
• Air Defense hitpoints +40%
• Claymore Damage +60%
• Ambush Trap Defender Hitpoints +50%
• Tower Blessing Power +20%
• Armor Piercing Directive Damage Increase +50%
• Interference Directive Damage Reduction +70%
• Livens Flame Projector Range +1
• Livens Flame Projector Hitpoints +50%
Special Troop Bonuses:
• APC Deployment Speed +125%
• APC Troops Deployed -1
• Leonidas Damage +50%
• Spartans Hitpoints +50%
• Marine Bazooka Damage +40%
• Char 2C Hitpoints +40%
• T28 Super Heavy Tank Damage +40%
• KV2 Damage & Hitpoints +20%
• Recon Mk6 Cooldown -20%
Additional Bonuses:
• Pyramids Food Boost +100%
• Stadium Australia Chest Refresh -50%
• Kremlin Wall Bonus +100%
• Victory Chest Star Requirement -3
• Alliance Speedup Cost -50%
• Daily Law Donation 21+ Crown Cost -25%
• Mysterious Fragments Earned in Battle +50%
---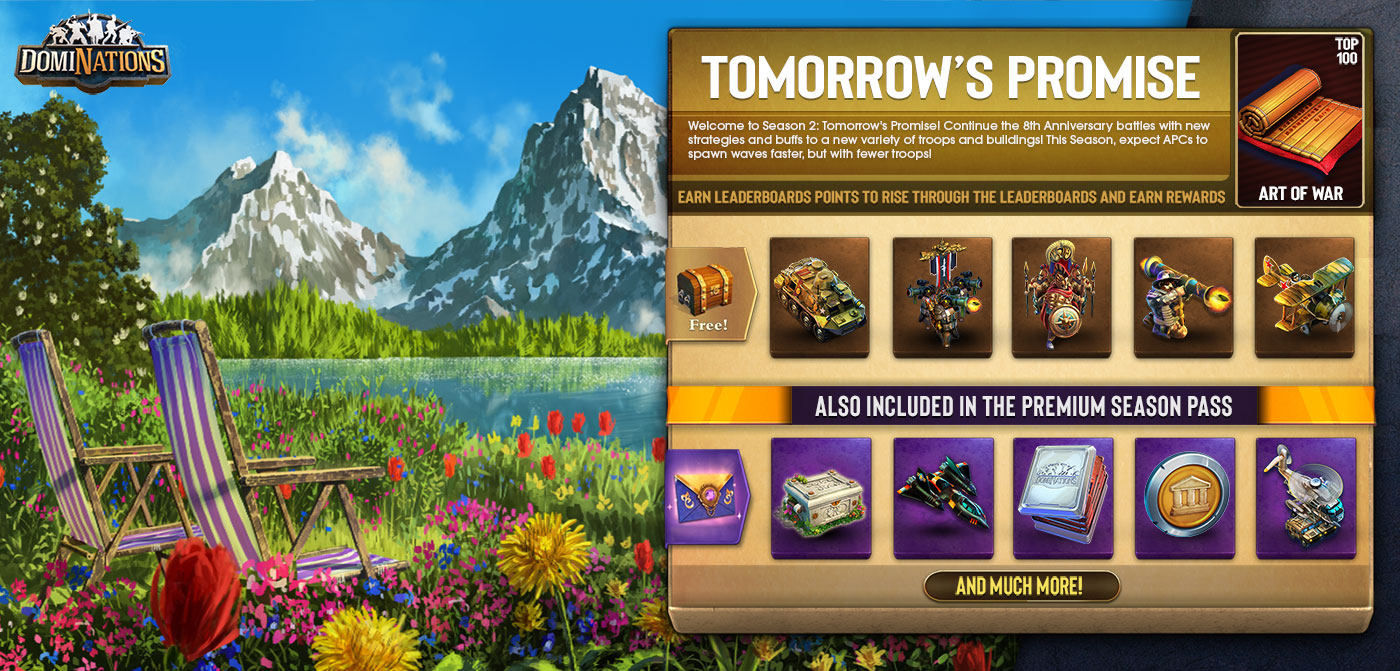 As with the New Horizon's Season, you'll have access to this Season's Tomorrow's Promise Pass for Free, with an upgrade to the Premium version of the Season Pass, available now, that will get you even more rewards throughout the month. You'll be able to retroactively claim all the Premium items even if you don't pick up the Premium Season Pass on day one!
The Tomorrow's Promise Season Pass will have you begin making progress on the same day the season kicks off on 5/7! The pass will keep you equipped with Season Boosted Troop Tactics including APCs, and Marine Bazooka. Premium Pass holders can get multiple Season 2 Chests for chances at the Mask of Tutankhamun Legendary Artifact, Recon Troop Tactics, and more!
---
Committee Recruitments
Each weekend you can look forward to fulfilling all the duties in that Council Committee you've had your eye on with special Committee Recruitments. These recruitments have Councilors that will be compatible with the Committee highlighted in the Recruitment only. This is a great way to fill out Councilor Collections with these catered Recruitments, or potentially improve upon these Committees with higher rarity Councilors as these Recruitments feature only Uncommon rarity or Higher!
Starting tomorrow 5/5, you'll be able to pick up Itzcoatl's Triple Alliance Recruitment and the Musashi's Duelists Recruitment. Picking up the Itzcoatl Triple Alliance Recruitment will feature Itzcoatl and Councilors that have the Leader Duty all Uncommon or higher rarity.
The Musashi's Duelists Recruitment featuring Miyamoto Musashi and Councilors that fall under the Royalty, Warrior, and Leader Duties all Uncommon or greater rarity.
---
There is plenty more to come each week with Multiple Episodes of Free and Premium rewards to claim, and the ongoing celebration of our 8th Anniversary! Tomorrow's Promise runs from 15:00 UTC 05/07 until 15:00 UTC 05/28. Be sure to check back this Sunday in the Week Ahead for even more information on what to expect in the first week of Season 2!
UPDATE 5/7 3pm EST
We have identified an issue with one of our 'Tomorrow's Promise' changes, specifically the reduced stars required for Victory Chests. Unfortunately, we will be removing this benefit for the Season effective immediately to avoid any further delay in claiming your victory chest rewards. We apologize for the inconvenience and will be reverting the stars required for Victory Chests back to 15 their original state. We will be sending compensation as well for the error.
Last edited: