BHG Community Manager
Staff member
Joined

May 6, 2022
Messages

612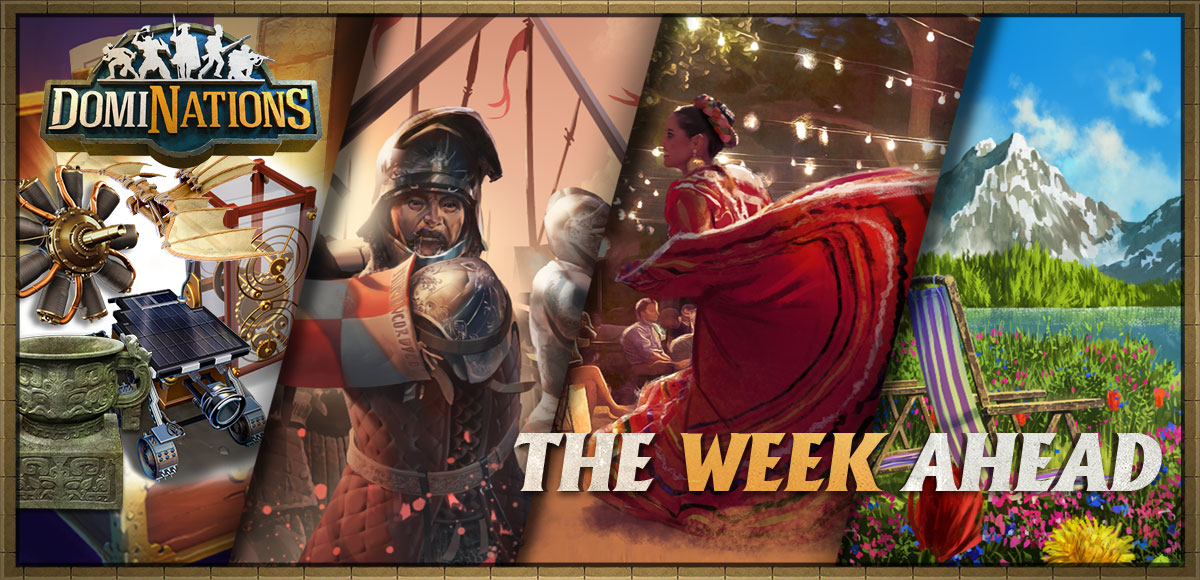 Greetings Leaders,
This week we're getting prepared for Season 2: Tomorrow's Promise! Multiple Episodes this week will feature rewards that will kickstart your season with some of the boosted Troop Tactics that are featured. Also, the 8th Anniversary Conqueror's Chest becomes available for participating in war! There is plenty to look forward to for this week and beyond!
Season 2: Tomorrow's Promise
Later today the buffs for Season 1: New Horizons will come to a close. You've all been very generous in sharing feedback on how this season played out, and we're looking forward to launching the next season later this week. All stats from New Horizons will be reverted back to the state they were in before any season adjustments.
What were some of your favorite adjustments in New Horizons? Which ones are you sad to see go and would perhaps like to see return? Feel free to let us know in the replies!
The 8th Anniversary still continues going into the month of May. With that, May introduces a new season of strategy and bonuses to take advantage of!
Welcome to Season 2: Tomorrow's Promise! This Season's highlight, expect APCs to spawn waves faster, but with fewer troops! You'll also see that Bazookas have an increase in damage, Recon has reduced cooldown, and Helicopters return with an increase in Health and Range.
We didn't leave defense behind this season either though, with stronger Helicopters and more frequent Recons you'll want to take advantage of increased Tower Damage, and Increased Air Defense Health. With faster waves coming from APCs we're giving Garrison and Ambush Trap Defenders MORE health, and plenty more defensive bonuses including that extended Castle Defender Spawn Range that snuck in early! Check out the full season details here and prepare for the start of the new Season!
(Event lasts from 15:00 UTC 05/07 until 15:00 UTC 05/28.)
New Strategies!:
• APC Deployment Speed +125%
• APC Troops Deployed -1
• Battle Duration -15s
• Quick Victory Time +15s
• Castle Defender Spawn Range +13
Offensive Bonuses:
• Joan of Arc Damage +50%
• Sun Tzu Damage +50%
• Bazooka Damage +40%
• Heavy Infantry Damage +35%
• Tactical Helicopter Range +1
• Tactical Helicopter Hitpoints +60%
• Recon Plane Cooldown -20%
• Assault Rally Duration +1s
• Agility Directive Power +50%
• Valor Directive Damage Increase +66%
• Super Heavy Tank Factory Population +5
Defensive Bonuses:
• Garrison Defender Hitpoints +50%
• Tower Damage +40%
• Air Defense hitpoints +40%
• Claymore Damage +60%
• Ambush Trap Defender Hitpoints +50%
• Tower Blessing Power +20%
• Armor Piercing Directive Damage Increase +50%
• Interference Directive Damage Reduction +70%
• Livens Flame Projector Range +1
• Livens Flame Projector Hitpoints +50%
Special Troop Bonuses:
• APC Deployment Speed +125%
• APC Troops Deployed -1
• Leonidas Damage +50%
• Spartans Hitpoints +50%
• Marine Bazooka Damage +40%
• Char 2C Hitpoints +40%
• T28 Super Heavy Tank Damage +40%
• KV2 Damage & Hitpoints +20%
• Recon Mk6 Cooldown -20%
Additional Bonuses:
• Pyramids Food Bost +100%
• Stadium Australia Chest Refresh -50%
• Kremlin Wall Bonus +100%
• Victory Chest Star Requirement -3
• Alliance Speedup Cost -50%
• Daily Law Donation 21+ Crown Cost -25%
• Mysterious Fragments Earned in Battle +50%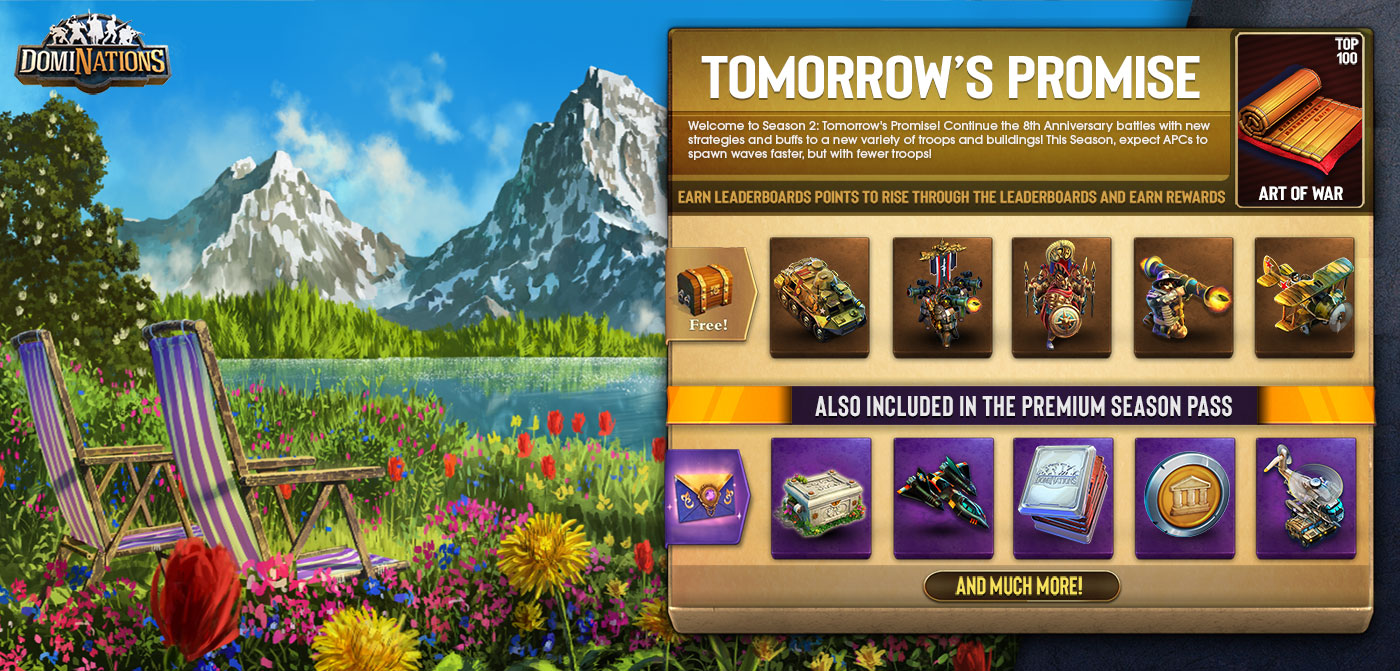 Tomorrow's Promise Pass 5/7-5/28
The Season Pass will equip you with plenty of APCs to take advantage of the boosted waves throughout the season. You'll even see AT-4 Bazooka and Marine Bazooka Troop Tactics and more all on the free track of this pass!
The Premium Pass is available for purchase starting 5/4! Premium Season Pass holders will see up to 5 Season 2 Chests for chances at Mask of Tutankhamun Legendary Artifact. You'll also see 7 Legendary Tokens on top of the 3 you'll already receive from the free track plus 7 Premium Recruitments! All this in addition to plenty of Speed Ups and Season Boosted Troop Tactics to look forward to.
Placing within the top 100 on the Global Leaderboard can get you the Art of War Legendary Artifact!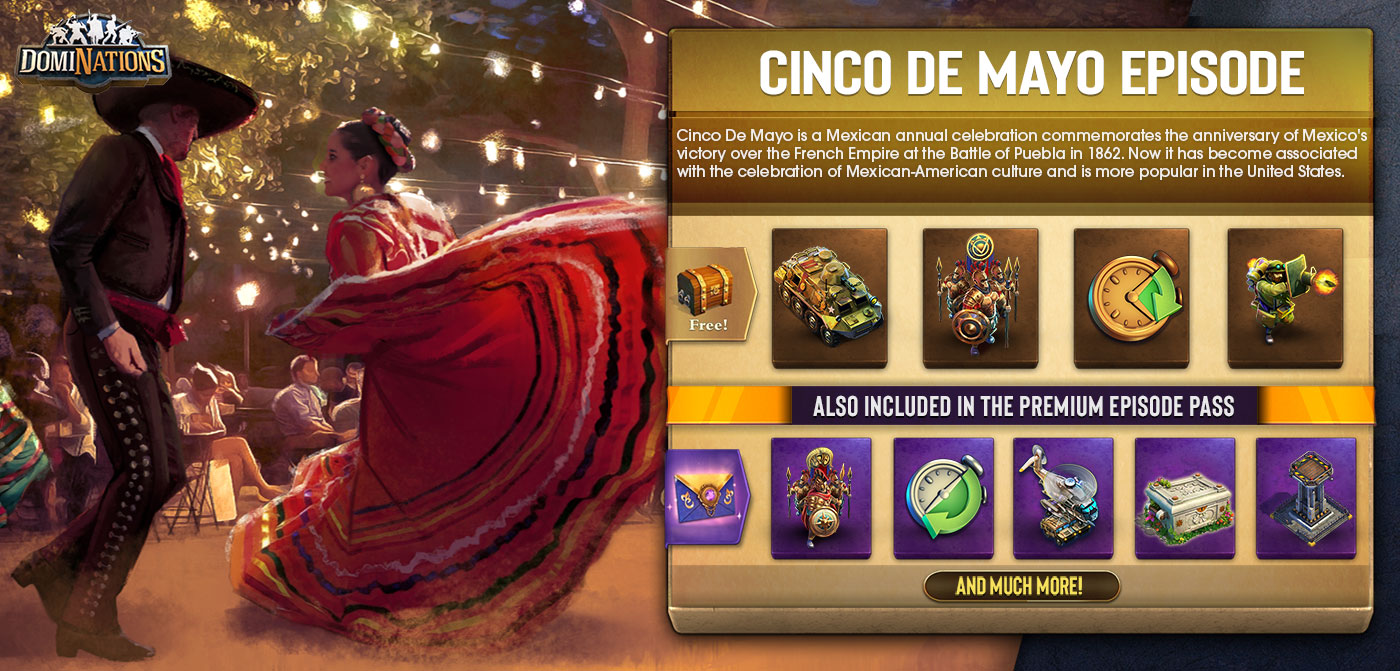 Cinco De Mayo Episode 5/4-5/11
This week we're celebrating Cinco De Mayo! Get your first Season Buffed Troop Tactics ahead of the official start to Tomorrow's Promise Season on 5/7. The free track will get you Spartan Army, and APC Army Troop Tactics. Premium Episode Pass holders can obtain the Season 2 Chest with a chance at the Legendary Artifact Mask of Tutankhamun, the Livens Flame Projector, and Super Heavy Tank Factory. You can also get the Leonidas Troop Tactic and the Bazooka Sentry Building!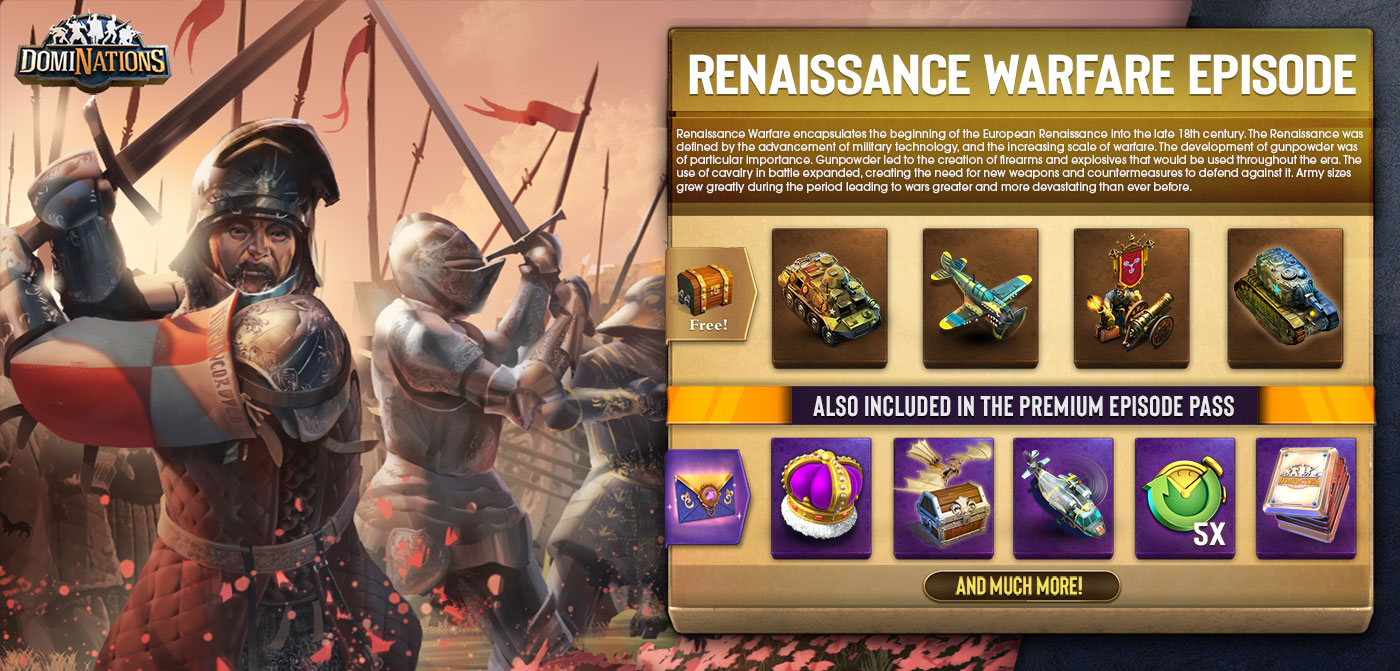 Renaissance Warfare Episode 5/4-5/11
The Renaissance Warfare Episode will also be available, featuring the Renaissance Army Troop Tactic on the Pass's free tier. You can also get the APC and KV-2 Dreadnought Tank Troop Tactics in preparation for 'Tomorrow's Promise'!
Premium Pass holders can acquire the Flying Machine Legendary Heat Up Chest with a chance at the Da Vinci Flying Machine! Premium includes over 17,000 Crowns, the Season 2 Chest, and a Legendary Recruitment that includes increased odds for Legendary Councilors!
Events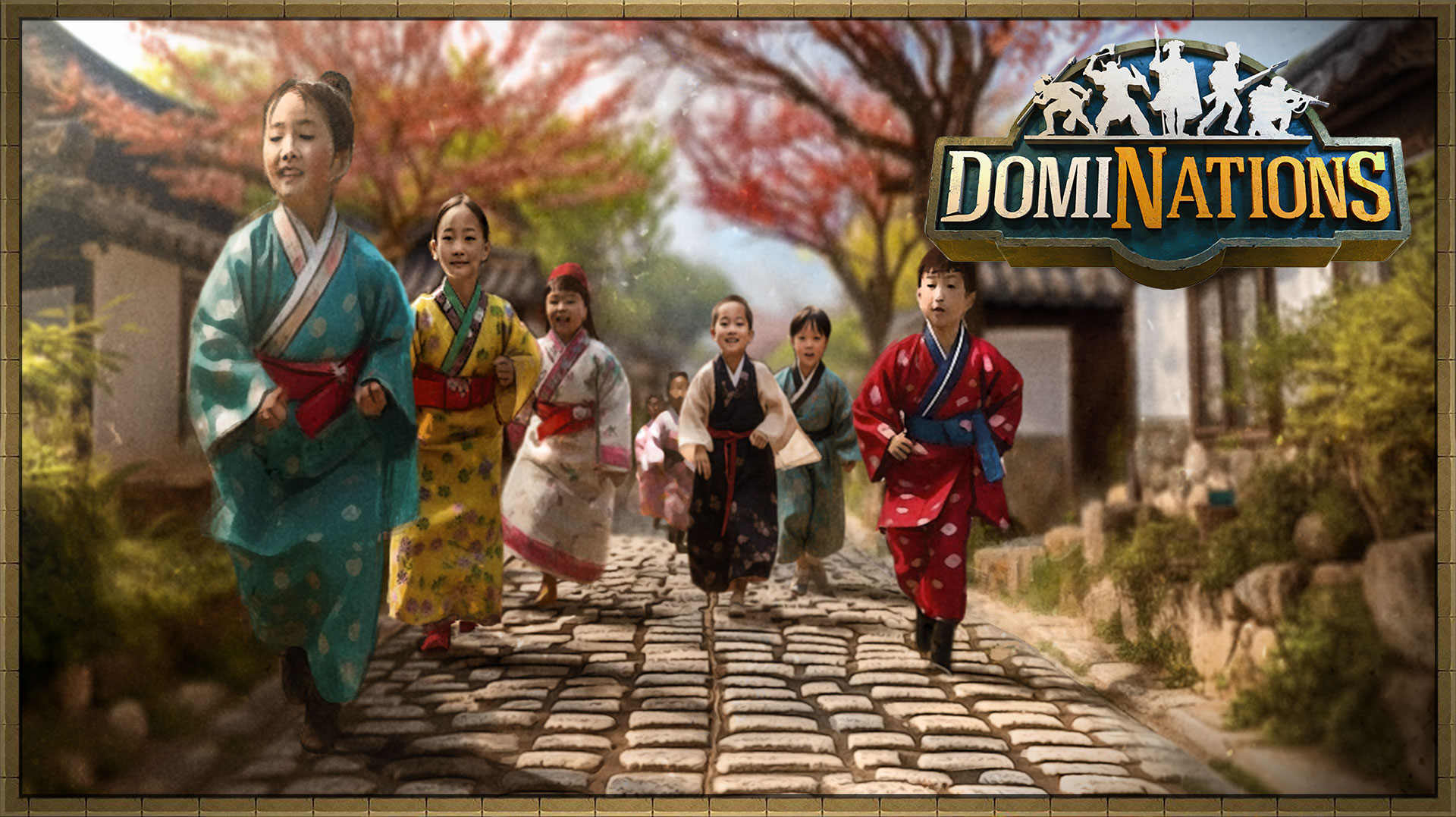 Children's Day 5/1-5/5
This week is our Children's Day Event!
Children's Day is a holiday celebrated in many countries. Although the date of observance varies by country, each celebration focuses on honoring children. Japan and South Korea celebrate Children's Day on May 5. In Japan, koinobori are carp-shaped windsocks traditionally flown when celebrating the holiday. A full set of koinobori includes a carp for each member of the family: the largest black carp representing the father, the next largest red or pink carp representing the mother, and smaller carp of varying colors representing the children. In South Korea, many families will make an extra effort to do something special with their children on Children's Day. Popular examples include taking children to amusement parks, zoos, museums, and other similar venues to enjoy children-oriented entertainment.
Enjoy these discounts for a limited time!
25% off the following building upgrades:
• Road
• Airstrip
• Tower
• Drone Command
33% off the following troop upgrades:
• APC
• Tactical Helicopter
33% off the following General upgrades:
• Sun Tzu
33% off the following War Tactic upgrades:
• Assault Rally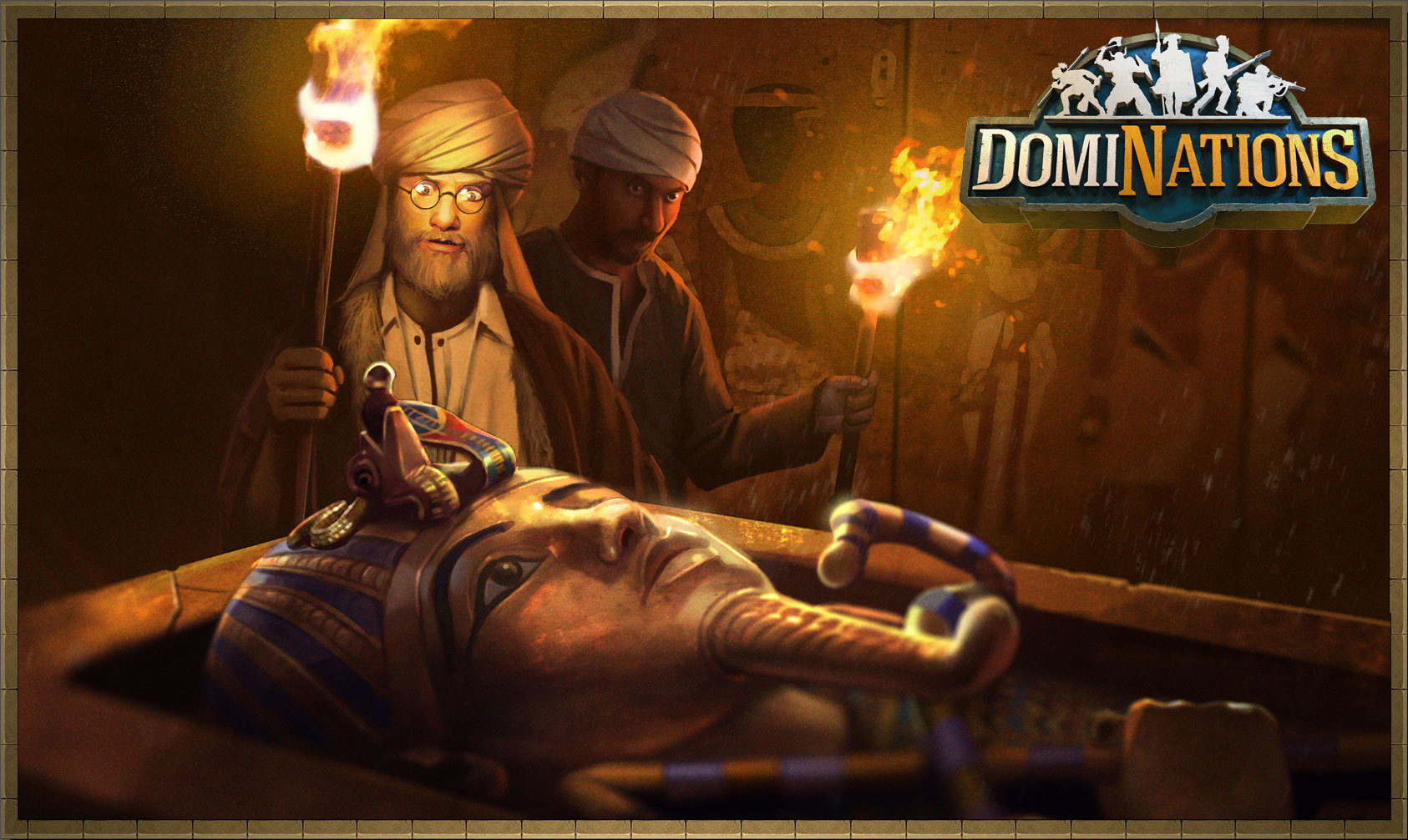 King Tut's Tomb 5/2-5/9
Leveling Up Museum Artifacts costs 20% less Blueprints and 20% less resources for a limited time!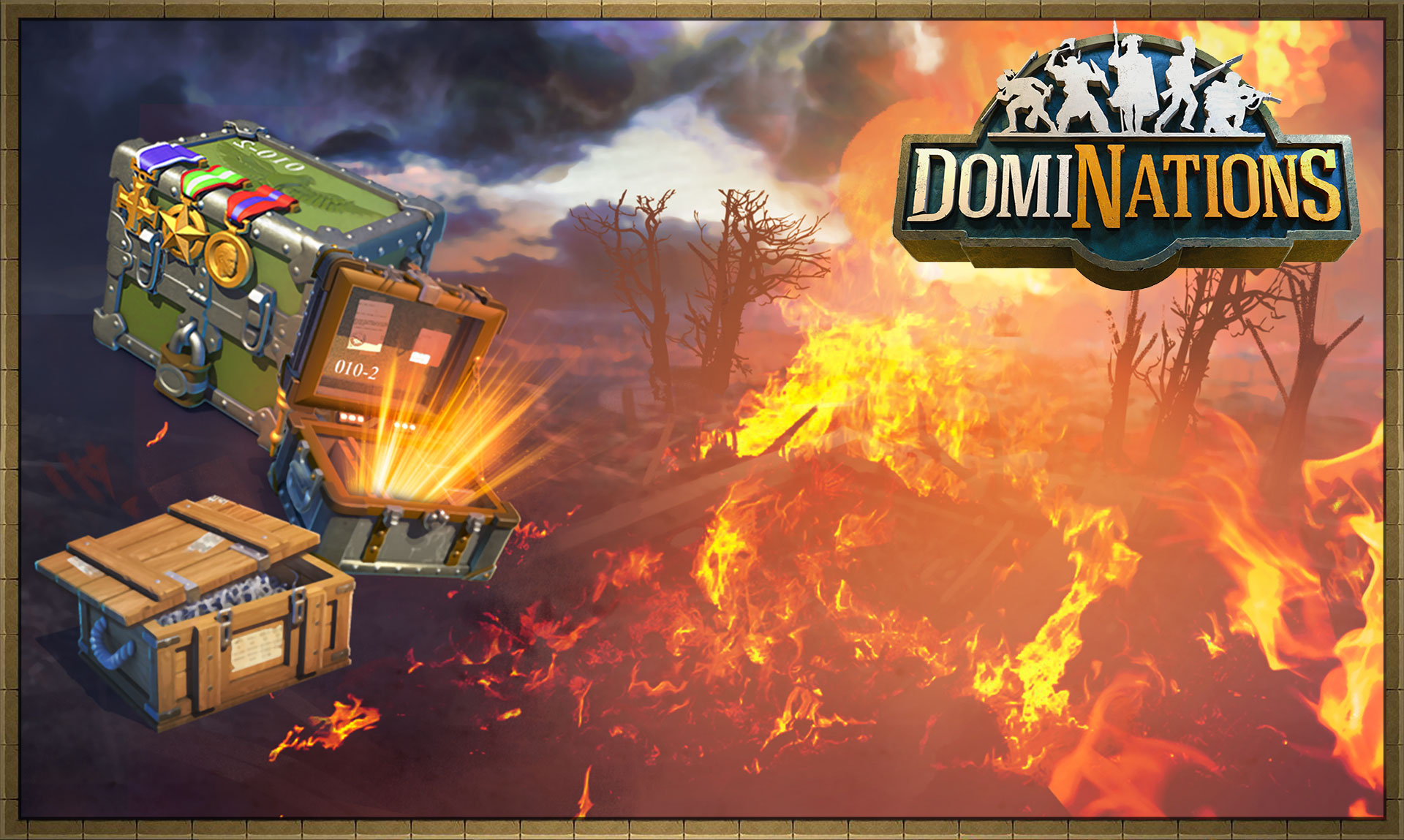 World War Chest 5/1-6/1
Celebrate DomiNations' 8th Anniversary by going to War! For the entire month of May, all Conqueror's Chest rewards have been significantly boosted, offering the chance to receive 3 Superior Recruitment! Check out all the rewards temporarily available in the Conqueror's Chest:
Conqueror's Chest (Fight two battles in a winning War to earn)
• Superior Recruitment
• Nighthawk
• Vickers Virginia
• F-15 STOL
• Crowns, Speed Ups and other valuable Troop Tactics!
Legendary Step-Ups and Sales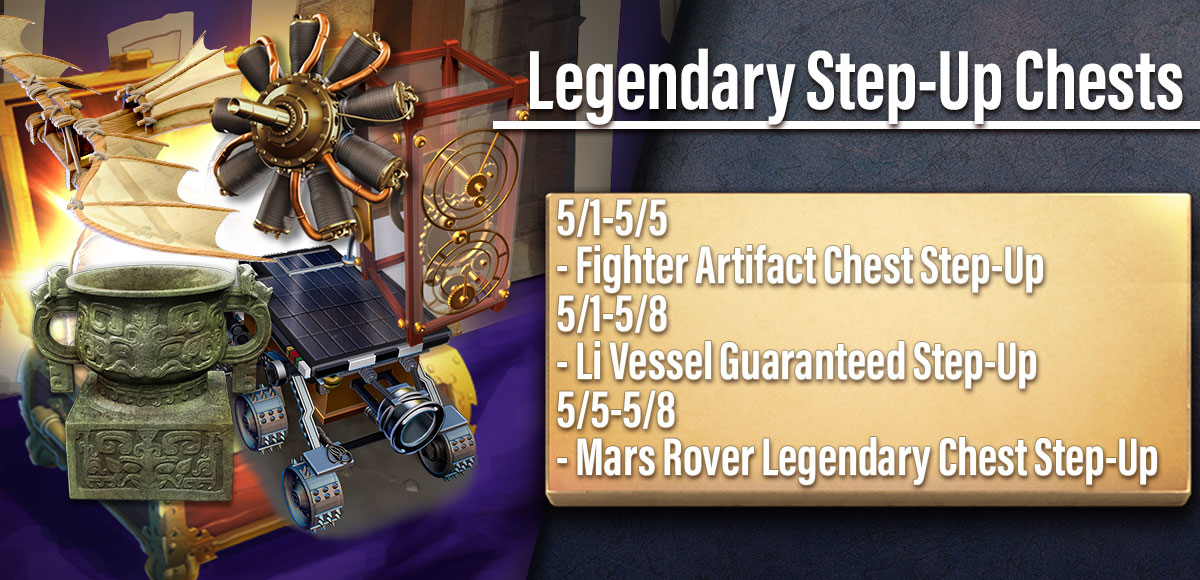 Hello May 5/1-5/3
Say hello to May and the upcoming 'Tomorrow's Promise' Season with a quick set of Crowns, Char 2C Tank, and a Marine Bazooka Troop Tactic!
Fighter Artifact Chest Step-Up 5/1-5/5
A Step-Up sale that features the Fighter Artifact Chest giving you multiple chances at various Legendary Artifacts including the Antikythera Mechanism, The Red Baron's Engine, Da Vinci's Flying Machine, and more!
Li Vessel Guaranteed Step-Up 5/1-5/8
A Step-Up sale that features the Li Vessel Chest! Complete all steps to get a guaranteed Li Vessel Legendary Artifact.
Mars Rover Legendary Chest Step-Up 5/5-5/8
A Step-Up sale with multiple chances at the Sojourner Mars Rover Legendary Artifact through the Mars Rover Legendary Chest!
Treasure Passes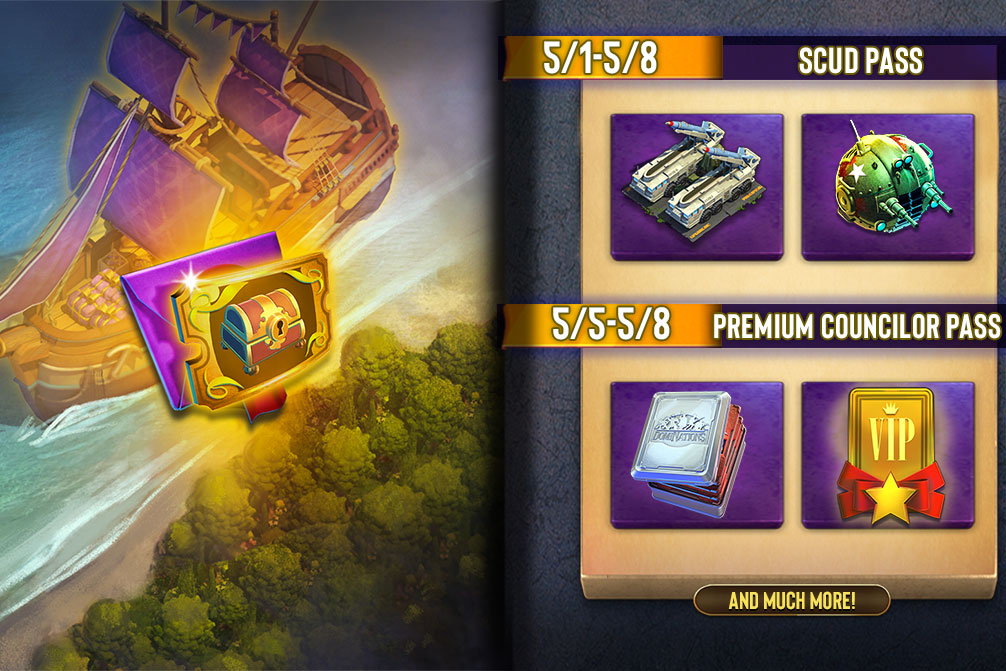 This week's Treasure Passes include the SCUD Pass that gives you the SCUD Missile Encampment Building, MBT Mk2, and Ball Tank Troop Tactics. You'll then get daily drops of MBT Mk2 and Ball Tanks!
The Premium Councilor Pass gets you daily Premium Recruitments to fill out your Councilor Chambers and round out that collection!
Additional Treasure Passes Include:
Museum Pass

Daily supply of Museum Blueprints

Museum Supply Pass

Daily drops of Museum Supplies

War Pass

Immediately gives Nighthawk Troop Tactic, and then a daily supply of Armored Car Mk3 and a Coalition.

Tank Pass

Immediately gives the Heavy Tank Mk6 and then daily Heavy Tank related Troop Tactics.